IMPORTANT MESSAGE:
(posted 5/4/2020)
Our new Retail/Personal Mobile Banking App will be available in App stores beginning Thursday, May 7. Customers will no longer be able to use the old Mobile Banking App after 6 PM on Thursday, May 7. This means you will not be able to sign into the old App and you will receive an error message if logged in at the time the App is discontinued.
Our existing Bill Payment system will also completely shut down on Thursday, May 7. Please download iPay history that is needed before noon on May 7 as this history will not convert to the new system. Our new Bill Payment system will go live on the morning of Monday, May 11 and will be available to customers at this time. Please note that even though the new App will be available for use on May 7, the Bill Payment functionality will not be available within the App until May 11. Customers will need to log in to Personal Online Banking on Monday, May 11 to enroll in Bill Pay. Once enrolled, the Bill Pay features will be also accessible within the new Retail/Personal Mobile Banking App.
Important information was sent to Bill Pay and Mobile Banking customers on April 7 and is available on our website for reference. That letter contains important information about the types of transactions that will convert and those that will need to be re-entered in the new system.
Be sure to visit the App store specific to your device on May 7th to download and start using the new App. To locate the App within the App stores search "BOGBPersonal." Direct links will also be posted on our website (https://www.thebankofglenburnie.com/app/) on May 7. Please note that customer support will not be available over the weekend (Saturday, May 9 – Sunday, May 10) for those customers who download the new App prior to May 11.
In the coming days, we will also be adding video tutorials to our Online Education Center that offer a detailed overview of both products.
---
(posted 4/7/2020)
Download Letter to Customers Regarding Retail/Personal Mobile Banking App and Bill Pay Product Changes
---
Introducing Our NEW Personal Mobile Banking App
---
Start Banking at the Speed of Life
Enjoy the benefits of online banking in the palm of your hands. It's fast, convenient, and safe.
Pay bills and check account balances (requires enrollment in Online Bill Pay)
Transfer money using online banking or Online Bill Pay
Review payment history
Find MoneyPass® ATMs
Watch our Personal Mobile Banking Tutorial Video to see Personal Mobile Banking in action: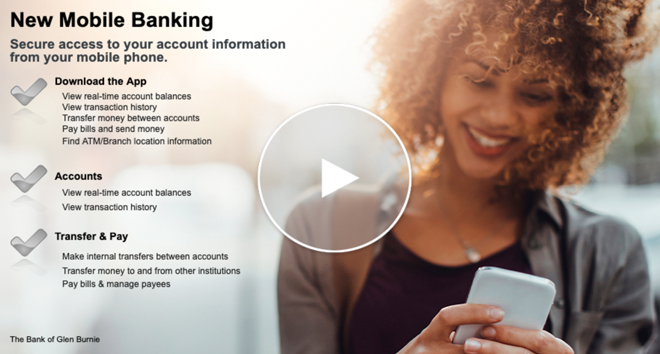 ---
---
Download The Bank of Glen Burnie's® NEW mobile banking app today on your Apple® or Android® mobile devices. For best use, download the latest operating system to your device and go to the Apple® App Store or Google Play® for our latest app update.
Watch our Personal Mobile Banking Tutorial Video
Watch our Personal Bill Pay Tutorial Video
---
Click the links below to download:
Download the NEW Bank of Glen Burnie Personal Mobile Banking App available in both Google Play® and the Apple® App Store. Using your mobile device, click on the appropriate links. Be sure to select our "Personal" App.
---
*Mobile carrier rates may apply. Your mobile phone provider may charge access fees or data usage fees to obtain web access or send/receive text messages. Check with your service carrier about these fees.
Apple is a trademark of Apple Inc., registered in the U.S. and other countries. | Android is a trademark of Google Inc.