---
Send Money with Zelle®
We now offer Personal Online Banking customers who have enrolled in Bill Pay the ability to send and receive money to friends, family, and people they know using Zelle®
Watch our Zelle® Tutorial to learn more!
---
---
Personal Online Bill Pay
---
Online Bill Pay is a fast, easy and secure way to pay your bills in one play and manage your payments.
Easy to use payment dashboard to manage bill payment activities
Pay virtually anyone in the U.S.
Group payments into categories to stay organized
Receive bills online
Set e-mail reminders
Take advantage of the automatic payment feature for recurring bills
View payment history of payment activity
Reduce risk of fraud and identity theft
Rush delivery options available for some payments for an additional fee
Customers must be enrolled in Online Banking to enroll in Bill Pay. To enroll in Bill Pay, simply login to Online Banking and follow the prompts to enroll. Once enrolled, the Bill Pay features will also be accessible within our new Personal Mobile Banking App.
Watch our Personal Online Bill Pay Tutorial Video to learn more:
---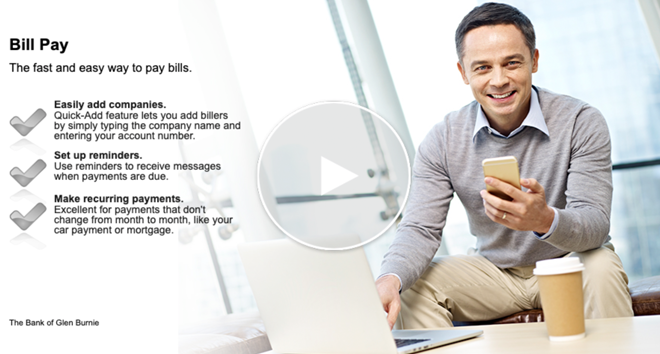 ---
Learn more about Personal Online Banking
Learn more about our Personal Mobile Banking App
Watch our Personal Mobile Banking Tutorial
Learn More About Zelle®
Watch our Zelle® Tutorial
Download Letter to Customers Regarding Personal Mobile Banking App and Bill Pay Product Changes