Unaffiliated Third-Party Bill Payment Websites
Security Alert
Use Extreme Caution with Google Searches
Unaffiliat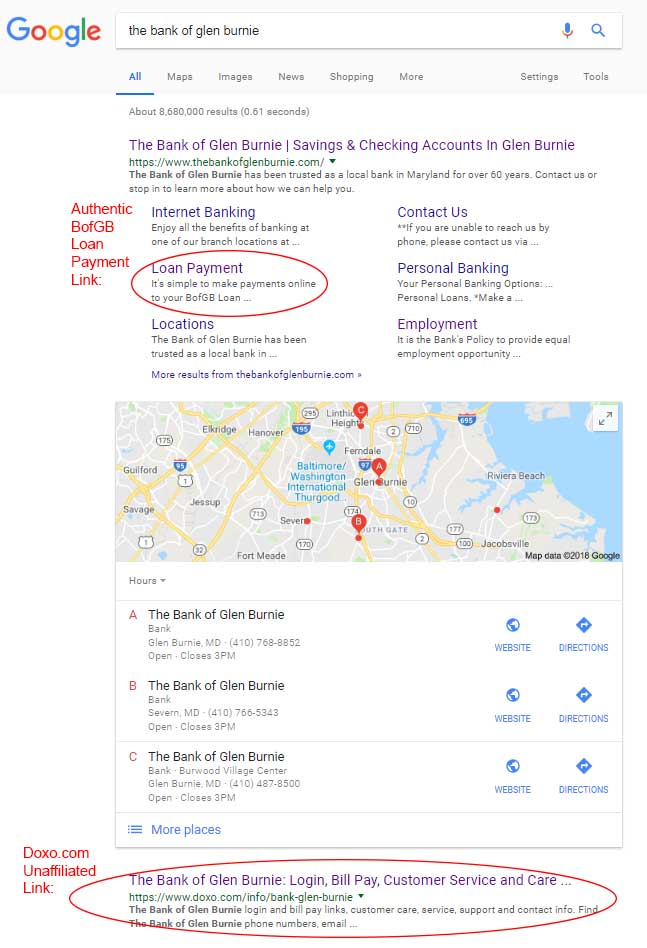 ed third-party bill payment websites can create confusion for customers and often result in payment transactions on sites with no actual affiliation to the biller. Customers who use Google or other search engines to locate bill payment options are especially vulnerable to being misdirected to these unaffiliated third-party sites.
Doxo.com is one example of an unaffiliated third-party bill payment company with search engine listings that could lead users to believe they have reached an official/affiliated payment site. The screenshot below demonstrates how the unaffiliated company appears just below the authentic BofGB loan payment link in search results.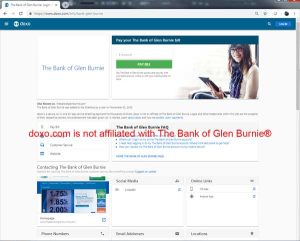 After clicking the Doxo.com unaffiliated link, users are taken to a webpage that includes screenshots of our website, bank contact information, and links to download the BofGB online banking app. Please be aware that this site is NOT affiliated in any way with The Bank of Glen Burnie®. Doxo states that it is not an affiliate of TheBank of Glen Burnie®, however, this statement could be missed by consumers.
Always make sure you pay close attention to the URL of the website you are visiting, whenever you make your BofGB loan payments (or any type of online payment) to ensure that you actually are on the site you intended to use. BillMatrix® Next is the only affiliated loan payment system used by The Bank of Glen Burnie®. Loan customers who use their own banking institution's bill pay services to make BofGB loan payments should take similar precautions and pay close attention to the URL of the website being used.
Access BillMatrix® Directly from Our Website
We strongly suggest that customers access BillMatrix® Next directly from our website (www.BofGB.com or www.thebankofglenburnie.com).
You may also bookmark the loan payment page (www.thebankofglenburnie.com/loan-payment/) for easy access in the future.
Taking these steps will help ensure you are not unknowingly being directed to an unaffiliated third-party payment site.